Nur Lailatul Husna, Mohammad Yusof (2009) The Influence on Office and Home Workload among Career Women : A Study among Famale Academicians of UiTM Seri Iskandar, Perak. Masters thesis, Universiti Utara Malaysia.
PDF




Nur_Lailatul_Husna.pdf


Restricted to Registered users only
Download (406kB) | Request a copy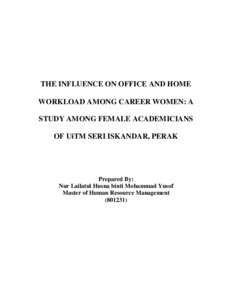 Preview
PDF




1.Nur_Lailatul_Husna.pdf


Download (70kB) | Preview
Abstract
A woman is affected physically as well as emotionally in every type of job. For, mostly it is the case of dual responsibility of office job and household responsibilities for her as Work and family are the two most important aspects of people's lives especially for women and they often create job stress among them. This paper examines the nature of that job stress and its effect on the female academicians at higher university. The purpose of the present study is to develop an understanding on the job stress and to examine whether there is a relationship between office workload and also home workload with the
job stress. The data for this study were collected from 90 female lecturers of Universiti Teknologi Mara (UiTM), Seri Iskandar Perak and was selected randomly as one of the
Higher Learning Institution in Perak.The findings from the study were indicated that there were a significant relationship between office workload and home workload with the job stress. Due to that, it is now clear that the office workload and home workload are two importance factors that contribute to job stress. Therefore, the alignment between these two factors is important as it will help to reduce the level of job stress among the female academicians of the
university.
Actions (login required)