Julia, Jaladdin (2009) The Relationship Between Succession Planning and Career Development. Masters thesis, Universiti Utara Malaysia.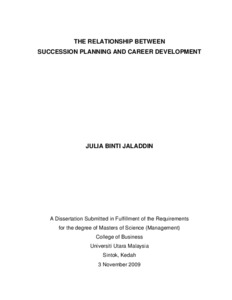 Preview
Text




Julia_Jaladdin_.pdf


Download (2MB) | Preview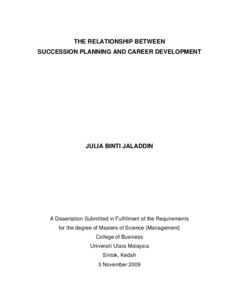 Preview
Text




1.Julia_Jaladdin_.pdf


Download (1MB) | Preview
Abstract
This quantitative research aims to determine the relationship between succession planning and career development and to create awareness on both matter among 1,453 PTD officers (Grade M48, M52 and M54) at five ministries/departments in Putrajaya (Prime Minister's Department, Public Service Department, Ministry of Home Affairs, Ministry of Finance and Ministry of Health). Instrument of Assessment Questionnaire for Effective Succession Planning and Management (SP&M) by Rothwell (1997) used to measure the importance of succession planning program and ASTD Survey Questionnaire by Gutteridge, Leibowitz & Shore (1990) to measure the effectiveness of career development program. Of the five hypotheses tested, two were substantiated and three were not. The finding shows that promotion is the most influential factor in explaining the effectiveness of career development programs. In other hands, respondents claimed that there is no effectiveness of career development program for them. The importance of succession planning is not the same among the ministries/departments and there is no difference between men and women in their perception towards succession planning. The result also shows that the career development program is effective if there is support from the top management, a system to manage the human resource, more recruitment, more training program and more promotion exercise for all excellent officers. Implications of the findings, suggestions for future studies and recommendations for positive actions to be taken by government were also suggested.
Actions (login required)