Azhar, Jamil (2009) Ergonomik dalam Menjana Keselesaan di Tempat Kerja. Masters thesis, Universiti Utara Malaysia.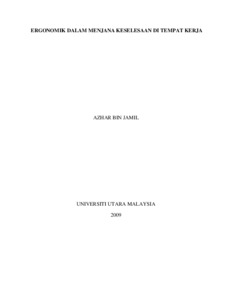 Preview
Text




Azhar_bin_Jamil.pdf


Download (495kB) | Preview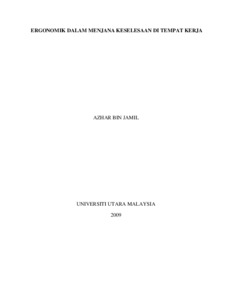 Preview
Text




1.Azhar_bin_Jamil.pdf


Download (103kB) | Preview
Abstract
Ergonomics was introduced after the Second World War. Ergonomics is used in military, psychology and engineering areas. Every year, approximately 10,000 workers in Malaysia
suffer injuries at workplace. The real problem is based from bones and muscle related a disease which is connected with design, order and use of multi-components at the workplace.Therefore, this research was done to study the level of ergonomic-awareness at the workplace among the staff at Sultanah Bahiyah Library. Due to the various problems which had arised in connection with safety and health issues at the work place, the researcher felt it was needed to evaluate the attitude and knowledge of this issue. 85 out of 200 respondents answered the given questionaires. The finding of the study indentified that the level of ergonomic awareness at the work place among Sultanah Bahiyah was high with a mean of 4.077. The
level of awareness related to ergonomics and surrounding are of the work place play a very important role in developing level of awareness among the staff. The findings suggest that employees of all levels need to change their attitude so there are more aware of the important of ergonomics especially the surrounding area of the work place that will affect the quality and work productivity as well as the health condition of the employees.
Actions (login required)