Rzagi, Ezzeddin Al-Hadi M. (2009) Mobile Tracking Report System For Maybank College at UUM. Masters thesis, Universiti Utara Malaysia.
PDF




Ezzeddin_Al-Hadi_M._Rzagi.pdf


Restricted to Registered users only
Download (1MB) | Request a copy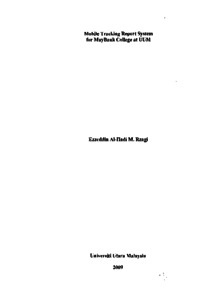 Preview
PDF




1.Ezzeddin_Al-Hadi_M._Rzagi.pdf


Download (190kB) | Preview
Abstract
The development of technologies has brought a lot of changes as well as advantages in the life. The emergence of the Wireless Application Protocol (WAP) technology has made
a lot of changes as well as advantages to the daily routines in many fields. Students used to use their mobiles devices to do their tasks. Many organizations change to develop WEB and WAP sites to enhance their services. The current system in Maybank Office is to fill reports manually and students find difficulties to get the information about their report especially when they are away or outside of the Universiti. This study led to the
development of Mobile web-based prototype to help the students to make reports forms about their problems in the rooms from their mobiles and track their reports by using the mobile report tracking system which reduces the efforts for the students to follow up their problems. Maybank office can view and follow up the status of reports directly by using web tracking system which has been developed. Two systems prototype has been developed and tested successfully. The future work is how to implement those systems online in the web world to be used by the students and Maybank office as well as make some enhancements make integration with the current systems in UUM.
Actions (login required)