Zaim Shah, Adnan @ Nasir (2009) Strategi Pembuatan Terhadap Prestasi Syarikat Industri Kecil dan Sederhana (IKS). Masters thesis, Universiti Utara Malaysia.
PDF




Zaim_Shah_Bin_Adnan@Nasir.pdf


Restricted to Registered users only
Download (519kB) | Request a copy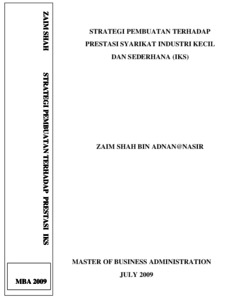 Preview
PDF




1.Zaim_Shah_Bin_Adnan@Nasir.pdf


Download (146kB) | Preview
Abstract
Malaysian Small Medium Industry (SMI) is between major catalyst on Gross Domestic Product growths and Gross National Product Country. A various of effort and encouragement given through 2010 budget to enable SMI helps increase country revenues, reduce poverty gap and further improving citizens per capita income, create regular income distribution, reduce inflation rate, creates balancing in balance of payment and acts as complement bigger industry. Unstable in world economics and raw material prices uncertainty need SMI regulates strategy especially in
manufacturing strategy so that SMI can competes in market. So refer to this problems, the aim's this study is to knows how manufacturing strategy relationship namely quality, cost, delivery and level flexible to company performance. Sample has been identified through information prepared
by factory under MARA, SME banks and halal food factory in Padang Tembak, Kelantan namely particularly suitable to knows manufacturing strategy. As much as 358 research
questions was removed to his respondent and result 112 questionnaires succeed to picks again namely as much as 31.3% respondents rates were obtained. The analyzes purpose the researcher use descriptive analysis and ANOVA. The research results showed that all the variables in manufacturing strategy undeniably had relationship on company performances.
Actions (login required)