Low, Chong Shyang (2009) Pembentukan Model Pengeluaran Biofuel Bagi Alternatif Bahan Api. Masters thesis, Universiti Utara Malaysia.
PDF




Low_Chong_Shyang.pdf


Restricted to Registered users only
Download (708kB) | Request a copy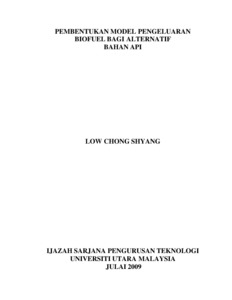 Preview
PDF




1.Low_Chong_Shyang.pdf


Download (165kB) | Preview
Abstract
The purpose of this research is to develop a basic biofuel production model as an alternative for fuel. This research model consists of a few components which are palm oil price, natural oil price,government expenses for agriculture and also the amount of world population. Data from the period of year 1990 to 2006 are annually used for the purpose of this research. OLS method has been used in
this research to estimate factors which influence the biofuel production. Regression result for this model indicates that the biofuel production is satisfactory which R² equal to 0.9884. This research is supported by empirical evidence that market information can be applied in developing biofuel production model as an alternative for
fuel. Biofuel production not just based on its price itself but also helped by the natural oil price and also government expenses for agriculture in order to decide to supply more palm oil based biofuel in domestic and oversea market. The other objective for this research is to empirically estimate and predict the biofuel production in future.Overall, the approximately results for this model fulfill the econometric assumptions which are no multicolinearity,heteroscedasticity and autocorrelation. Lastly, biofuel production trend forecast that in the future, the production only fluctuate with little increment.
Actions (login required)