Muhamad Firdaus, Abdull Razab (2009) The Effect of Packaging to SME's Product: Purchase Decision, Price and Customer Loyalty. Masters thesis, Universiti Utara Malaysia.
PDF




Muhamad_Firdaus_Abdull_Razab.pdf


Restricted to Registered users only
Download (1MB) | Request a copy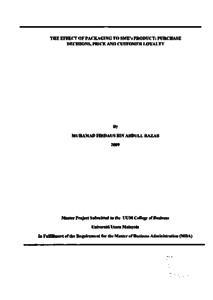 Preview
PDF




1.Muhamad_Firdaus_Abdull_Razab.pdf


Download (257kB) | Preview
Abstract
This study explores the effect of the new packaging for the SMEs product. This research looks the effect in term of customer purchase decision, price and consumer loyalty. This
study was held at area Kota Bharu, Kelantan. A survey of the consumer around Kota Bharu was conducted to determine the significant and the effect of the packaging to the
consumer purchase decision, consumer loyalty and also price. A total 200 questionnaire were distributed at Kota Bharu area. The finding shows that purchase decisions and
customer loyalty are affected by the new packaging. Customer will react on these two variables if SME's products have a new packaging. But the others variables namely price, is not affected. Customer is willing to pay more even the prices increases after the new packaging. Since the result shows that consumer loyalty and purchase decision will affected after a new packaging, SME's manufacturers must alert about it.
Actions (login required)