Nor Azimah Chew, Abdullah (2000) Strategi Pembuatan Sektor Perkilangan Di Utara Semenanjung Malaysia : Kajian Penerokaan. Masters thesis, Universiti Utara Malaysia.
PDF




NOR_AZIMAH_CHEW_ABDULLAH_-_Strategi_pembuatan_sektor_perkilangan_di_utara_Semenanjung_Malaysia_-_Kajian_penerokaan.pdf


Restricted to Registered users only
Download (10MB)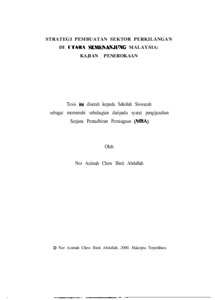 Preview
PDF




1.NOR_AZIMAH_CHEW_ABDULLAH_-_Strategi_pembuatan_sektor_perkilangan_di_utara_Semenanjung_Malaysia_-_Kajian_penerokaan.pdf


Download (982kB) | Preview
Abstract
The main objective of this study was to explore eight critical manufacturing issues. These issues are strategic manufacturing decision process, environmental scanning, competitive priorities in operation, supplier selection criteria, quality factors, human resource management, advanced manufacturing technology and location and capacity decision. These issues play an important role for the survivals of the industrial sectors in the competitive market. 32 samples (21.3 percent) were selected from the factories in the Northern of Malaysia which comprises of 5 (15.6 percent) factories from Perlis, 13 (40.6 percent) from Kedah and 14 (43.8 percent) from Pulau Pinang. The frequency, descriptive, Spearman correlation and cross-tabulation tests from the SPSS version 8.0 were used to
analyze the posted questionnaires. Results for the eight critical manufacturing issues are show that manufacturing firms regarded strategic manufacturing process as very
important in positioning manufacturing capability in market; environmental scanning factors showed that customers, suppliers and economic variables have a high impact on the manufacturing firm. The manufacturing firm has a high dealing concern with these unstable variables; quality products and services played an essential role in the competitive priorities of the operations; the buyer-supplier relationships enforced the supply of quality products and services; low degree of advanced manufacturing technology knowledge and the limited usage of computer in production process were found; manufacturing firms look upon infrastructure and labor as very important when making the location and capacity decision; performance appraisal and training are two important elements for the human resource management; and the manufacturing firms look upon quality as one important factor for the competitive edge.
Actions (login required)