Khabashna, Wissam Yousry Ali (2009) A Sustainable Mobile Workshop Application for Providing Users With the Learning Materials. Masters thesis, Universiti Utara Malaysia.
PDF




Wissam_Yousry_Ali_Khabashna.pdf


Restricted to Registered users only
Download (1MB) | Request a copy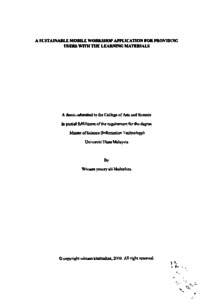 Preview
PDF




1.Wissam_Yousry_Ali_Khabashna.pdf


Download (201kB) | Preview
Abstract
M-learning has gained significant popularity and it is expected to continue in the future. M-learning is a multi-dimensional activity where each dimension should be most
organization adequately supported by an M-learning system to provide fruitful learning materials to those are interest to read via mobile applications. Different agent systems have been integrated wildly to enhance the flexibility of mobile knowledge presentation over WAP technology. Moreover, the current e-learning materials are not enough to provide users with the appropriate information, which make those users unable to brows
information without PC's. Hence, this study proposed a mobile workshop application for providing users with the learning materials via mobile. Furthermore, Spiral development model by Barry, B. (2000) has been used to design and develop the proposed application. Finally, 40 postgraduate students from UUM have been selected to evaluate the proposed application.
Actions (login required)