Aliyu, Abdullateef (2009) IxD Layout and Behaviour for a Room Reservation System. Masters thesis, Universiti Utara Malaysia.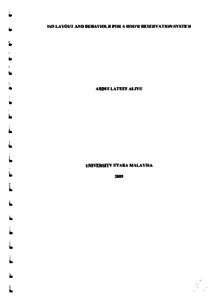 Preview
Text




Abdullateef_Aliyu.pdf


Download (2MB) | Preview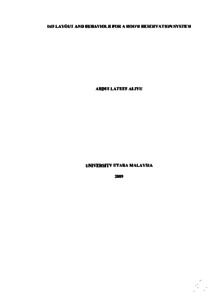 Preview
Text




1.Abdullateef_Aliyu.pdf


Download (184kB) | Preview
Abstract
Interacting with a system can be pleasurable when the design is good, but this is not true for a system that was poorly designed. Poor design emerges mostly when the interface which to the user is the system was designed poorly in terms of interaction design elements. With such an interface, accomplishing task become tedious, consumes a lot of time and effort as users interact with the system. User usually get frustrated and dissatisfied as accomplishing task becomes complex. A room reservation system (RRS) was explored as the study domain which attempted to solve the problems in designing a poor system in terms of Interaction design elements of layout and behaviour. A conceptual design of a RRS was designed after research on the existing interface of RRS. Selected elements, namely layout and behaviour were compared and tabulated. The deficiencies in the existing interface were improved in the new concept. A high fidelity prototype was designed from the concept which was evuluated with Questionnaire for user interface satisfaction (QUIS).
Actions (login required)