Odeibat, Hamza Ahamed Mohammed (2009) Develop Job Finder Portal. Masters thesis, Universiti Utara Malaysia.
PDF




Hamza_Ahamed_Mohammed_Odeibat.pdf


Restricted to Registered users only
Download (1MB) | Request a copy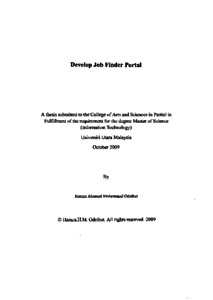 Preview
PDF




1.Hamza_Ahamed_Mohammed_Odeibat.pdf


Download (171kB) | Preview
Abstract
The Internet has dramatically changed the ways both employees and employers think about job opportunities. The major benefits of Careers Online is the ability to reach a
large number of job seekers at low costs, resumes can be checked and matches made more quickly. This study focused on development of a job search portal, a poor link between job portals frustrates job seekers in their job search and this project aimed at developing an easy to use portal. The applied design software engineering methodology was adopted and the job Finder was made of a simple design, high quality graphics and basic functionality and easy to use by users. The result from the development of the prototype portal was also discussed using screenshots from the prototype that was developed.
Actions (login required)