Teh, Eng Chai (2009) Collaborative Copy Exactly Automated Databased and Application Web Audit Tool. Masters thesis, Universiti Utara Malaysia.
PDF




Teh_Eng_Chai.pdf


Restricted to Registered users only
Download (957kB) | Request a copy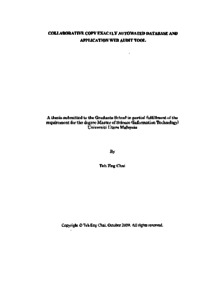 Preview
PDF




1.Teh_Eng_Chai.pdf


Download (175kB) | Preview
Abstract
Global IT supports team setup to support business continuity in INTEL Manufacturing environment, Copy Exactly (CE!) is very important to make ease of operation and support to achieve system up time agreed in Services Level Agreement(SLA). CE! means duplicate over the IT configuration items from one site to all of the sites. It covers Chengdu, Costa Rica, Kulim, Penang and Arizona site which doing chips and CPU manufacturing. This article is about what has to be done to achieve a specific and measurable Database and Application CE! quality standard: it isn't about using any estimated costly project management tool. Instead, it is an own development with CE!
automated web capability tool that able to scan over all supported servers and provide a CE! audit reports in all of the sites at Intel Organization. With implementing the CE! Automated report will lead the global configuration management implementation and continuous improvement participates in designing Information Technology Infrastructure Library (ITIL) Configuration Management
Implementation process. It also drive continues improvement within the area of responsibility to ensure cost efficient, timely and effective services. The CE! will ensure all Configuration Items (CIs) setup with following IT standard define in INTEL manufacturing. Configuration Items (CIs) are referring to the fundamental structural unit of a configuration management system. Examples of CIS include
individual requirements documents, software, model, plan and people.
Actions (login required)