Salem A, Abdulsalam (2009) A Study of Management Information System (MIS) Competency and Adoption Strategy Among Oil Companies in Libya. Masters thesis, Universiti Utara Malaysia.
PDF




Abdulsalam_Salem_A.pdf


Restricted to Registered users only
Download (1MB) | Request a copy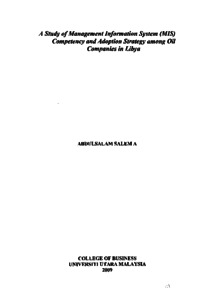 Preview
PDF




1.Abdulsalam_Salem_A.pdf


Download (184kB) | Preview
Abstract
The objectives of the research was to examine the relationship between MIS competency and MIS strategy adoption to maximize the utilized of resource management on oil companies in Libya and also to examine the influence of MIS adoption factors such as subjective norm, usefulness and ease of use of the product influence on MIS competency on companies in Libya on the perspective of resource management of the product. This study is important to
contribute to better understanding for production process on how important MIS strategy, competency and strategic MIS. It will help companies to make some changes based on the result of this research. The research confirmed the relationship between subjective norm, perceived usefulness and ease of u contribute were positively related to MIS competency. It provides estimates of the research model and suggests which components of the adoption item will get more successful in Oil Companies. The research models are being pursued in the adoption of organization competency to succeed. Through this research companies able to understand the all level production and see how well the management has done its part to watch over their MIS strategy. This study is designed to provide the benefit for management
practitioners, especially for stakeholder in oil companies in Libya. For practitioners, the aim is to offer a holistic and in-depth overview of how to forms the product through the determination of MIS competency and strategy. Furthermore, this study confirmed to enhance and develop MIS strategy to make products and all activities using MIS as efficient and effective. This study also significance to fill the gaps in the literature review and contribute to the increase of strategy in the firm, company and organizations. This study also intends to help practitioners to understand what factors influence the MIS strategy using competency and strategic MIS.
Actions (login required)