Alsubaihy, Mohammed F H Mussa (2009) The Factor Influencing Hidden Economy Involvement in Libya. Masters thesis, Universiti Utara Malaysia.
PDF




Mohammed_F_H_Mussa_Alsubaihy.pdf


Restricted to Registered users only
Download (724kB)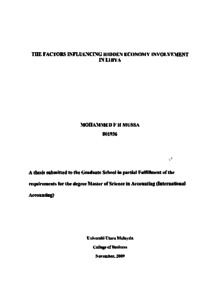 Preview
PDF




1.Mohammed_F_H_Mussa_Alsubaihy.pdf


Download (253kB) | Preview
Abstract
This paper aims to examine the influence of the demographic and attitudinal variables (tax rate and social burden, Islamic values, working experience, penalty, fairness of the government, age, gender, education, occupation, income level, and marital status) on hidden economy involvement in Libya. The questionnaire was developed and distributed in order to collect the data for the purpose of this study.
From the correlation and regression analysis, it is found that tax rate and social burden, penalty and Islamic values variables are positively related to hidden economy involvement. For the demographic factors, the variable of occupation has a relationship with hidden economy involvement.
Actions (login required)