Minah, Harun (2007) Malay-Chinese Interethnic Communication: An Analysis of Sensemaking in Everyday Experiences. PhD. thesis, Ohio University.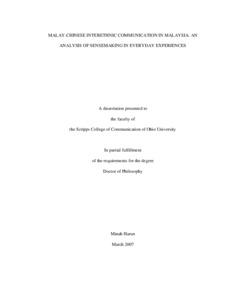 Preview
PDF




Harun_Minah.pdf


Download (949kB) | Preview
Abstract
This dissertation explores everyday communication patterns among ethnic Malays and Chinese in multicultural Malaysia. Specifically, the study examines communication strategies and the concept of sensemaking (Weick, 1969, 1979, 1995) in interethnic interpersonal communication processes. Because interethnic communication requires individuals, as social organisms (Blumer, 1969), to possess intercultural sensitivity (Condon & Yousef, 1975; Orbe, 1995), the notions of ethnicized knowledge and sensemaking in interactions involving different Asian groups merit further examination. In order to engage in this work, researchers must get inside the defining process of the socially diverse actors to further understand their symbolic (inter)actions (Blumer, 1969).
This study demonstrates how ethnic sensemaking is co-constructed and represented through the dynamics of negotiated strategies including tactical ambiguities in interpersonal interethnic relationships. Data for the study were collected through a qualitative interpretive approach which included in-situ observations in a natural setting and in-depth interviews among selected individuals from two ethnic groups, and a study of relevant government documents and media coverage on the subjects. The data were analyzed using a rhetorical framework that focused on sensemaking. The study demonstrates that an understanding of interethnic communication as a social phenomenon is very critical in programs promoting societal integration in multicultural contexts.
Actions (login required)