Rahimi, Abidin (2009) Factors Influencing Environmental Technology Adoption: A Study on Food and Beverages Industry in Peninsular Malaysia. Masters thesis, Universiti Utara Malaysia.
PDF




Rahimi_Abidin.pdf


Restricted to Registered users only
Download (1MB) | Request a copy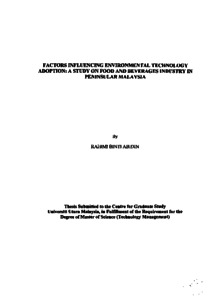 Preview
PDF




1.Rahimi_Abidin.pdf


Download (177kB) | Preview
Abstract
This study is undertaken to examine the factors that affect environmental technology adoption amongst food and beverage companies in Peninsular Malaysia. It covers four non regulatory factors which include characteristics of the environmental technology, communication networks, economic factors and technology performance that were argued to have significant effect on environmental technology adoption. The specific objective of this study is to determine the existence of relationships between the independent variables and the environmental technology adoption. This study is based on survey design and the time horizon was cross-sectional. Responses from 76 food and beverage companies were obtained and analyzed. The hypotheses were tested using correlation and multivariate statistical analyses. The results of analysis confirmed the hypotheses that there were significant relationships between the four factors and environmental technology adoption. Thus, the results of this study will be beneficial for researchers as well as industrial practitioners in the implementation of environmental technology.
Actions (login required)