Samudin, Kassan (2000) Rekabentuk Laman Web Bagi Pengguna Buta Dan Cacat Penglihatan. Masters thesis, Universiti Utara Malaysia.
PDF




SAMUDIN_BIN_KASSAN_-Rekabentuk_laman_web_bagi_pengguna_buta_dan_cacat_penglihatan.pdf


Restricted to Registered users only
Download (7MB)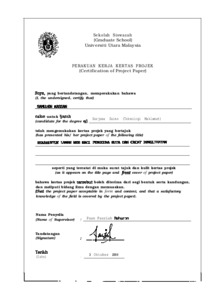 Preview
PDF




1.SAMUDIN_BIN_KASSAN_-Rekabentuk_laman_web_bagi_pengguna_buta_dan_cacat_penglihatan.pdf


Download (555kB) | Preview
Abstract
The concept of the 'Information Superhighway' or the World Wide Web is well known and understood. The rapidly growing numbers of both users and electronic documents is testimony to the claim that the Web is becoming an everyday part of life for many people. The Web as a digital information environment offers new methods of learning and patterns of information use. So, what does the Web offer to partially sighted and blind people? Does it offer a means of filling the information gap traditionally experienced by visually impaired people? And will this new medium provide equal access to, and use of, public information that has previously been unavailable?
It is important to discover the experience of blind and visually impaired users to see whether claims of universal access and 'ease of access' are justified. There is
currently little information available regarding how the Web has affected the lives of visually impaired users. There is no real data on how visually impaired users
who use the Web for practical purposes perceive and experience this valuable information tool.
The aims of the project are to document the experiences of Web use by blind people and people with visual impairments, and second, to examine how access and use can be improved.
Actions (login required)