Chuathaew, Khamphon (2008) A Macroeconometric Model of the Thai Economy. PhD. thesis, Universiti Utara Malaysia.
PDF




Khamphon_Chuathaew.pdf


Restricted to Registered users only
Download (3MB)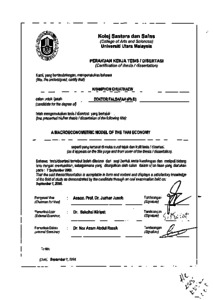 Preview
PDF




Khamphon_Chuathaew.pdf


Download (129kB) | Preview
Abstract
The objectives of this study are to analyze the demand and supply sides of the Thai economy, to investigate the income and income distribution, and to forecast the performance of the non-agricultural sector of the economy. The demand side consists of real, government, foreign, and financial sectors. The supply side consists of product market, population and employment. The model is designed to capture the structural characteristics of the economy in which a
macro-econometric model is constructed involving a simultaneous system. This study uses time-series data spanning from 1963 to 2003. The data are retrieved from various government departments and agencies. An ordinary least squares technique (OLS) is used in the estimation of the model. Then, the estimation is tested for autocorrelation, heteroskedasticity, and stationary problems. On the overall, we found that the estimation is satisfactory in terms of econometrics procedure. The estimated model is then used for simulation purpose, in which we increase 31 exogenous variables by five percent per year from 2004 to 200. The results of simulation showed that the growth rates of 17 sub-sectors were increased continuously at an average rate of growth. However, some of the sub-sectors, such as textile, have shown negative growth rates. Hence, the author suggests that the government exercise policy to simulate growth.
Actions (login required)