Alrawashdeh, Hazim Qassim Hussien (2010) Determinants of Voluntary Disclosure: An Empirical Investigation on Jordanian Public Listed Companies. Masters thesis, Universiti Utara Malaysia.
PDF




Hazim_Qassim_Hussien_Alrawashdeh.pdf


Restricted to Registered users only
Download (713kB) | Request a copy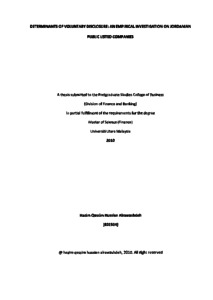 Preview
PDF




1.Hazim_Qassim_Hussien_Alrawashdeh.pdf


Download (141kB) | Preview
Abstract
This study aims to shed light on the determinants of the extent of voluntary disclosure in the Jordanian listed firms for the year 2008. Findings reveal that Jordanian companies adopt voluntary disclosure on different types of information including strategic, non-financial and financial information. This study additionally examined the effect of four corporate governance factors namely, managerial ownership, government ownership, block holder ownership, and board composition, on the extent of voluntary disclosure. A linear regression analysis is applied for this purpose. Findings reveal that lower managerial ownership, more independent directors are associated with higher voluntary disclosure in Jordanian companies. However, block holder ownership does not appear to have a significant impact on the extent of voluntary disclosure. The study also reveals that larger companies disclosure more information than smaller companies in Jordan.
Actions (login required)