Rochdi, Debili (2010) MMS (Multimedia Message Service) Service Adoption Rates in Algeria. Masters thesis, Universiti Utara Malaysia.
PDF




Debili_Rochdi.pdf


Restricted to Registered users only
Download (900kB)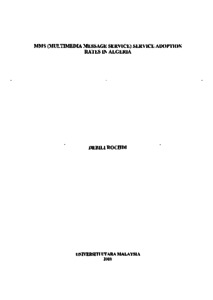 Preview
PDF




1.Debili_Rochdi.pdf


Download (160kB) | Preview
Abstract
This thesis tries to analyze the factors that affect the intention to adopt Multimedia message service (MMS) among users in Algeria. Innovation diffusion theory was chosen
as the basis of framework to better explain customer's acceptance of this new mobile service. MMS provides more multimedia communication with entertainment effects than
current text base short message service (SMS). The main purpose of this thesis is to investigate the occurrence of MMS from a user's perspective, to present a definition of
this new message service and provide a deeper understanding of the phenomenon. The main objective is to present a theoretical framework regarding MMS usage and to empirically investigate which user related factors to consider, when developing services adapted for mobile message use. Survey was chosen to gather the data. The measures and hypotheses were analyzed using SPSS. Results show that Ease of use, perceived enjoyment and perceived media richness significantly influence passenger's intention
towards adopting MMS in Algeria. At last, the implications of the findings are discussed.
Actions (login required)