Abualhayjaa, Sami Ahmad Mosbah (2010) Mobile-based Recharging System for Printing Services Based on Multi Agent Systems (MAS) for UUM Students. Masters thesis, Universiti Utara Malaysia.
PDF




Sami_Ahmad_Mosbah_Abualhayjaa.pdf


Restricted to Registered users only
Download (1MB)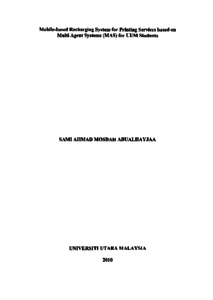 Preview
PDF




1.Sami_Ahmad_Mosbah_Abualhayjaaa.pdf


Download (199kB) | Preview
Abstract
Nowadays, mobile and web application have growth rapidly due to the current enhancement and development in the communication sectors. UUM is facing a lack in implementing and deploying the modern techniques for certain services such as recharging services, mobile banking application, and Web/WAP services, moreover, the current system for proving UUM student with the printing services is facing a
difficulties to reach the students satisfaction which it's done by manual system and closing in a certain time. Otherwise, UUM students need to wait for long time till he/she get to use this service. Hence, this study proposes the using of Multi Agent Systems for simplifying and customizing the recharging process for the printing services over web and WAP application. Agent system has be used for classifying the client queries during the recharging process by converting the incoming signals to more understandable objects which reduce the lacks and mistakes during the recharging performance for the printing services. The study has been employed the research methodology based on object-oriented analysis and design by Whitten and Bentley (2007) that involves the use of RAD methods for system design. The system has been tested and evaluated based on test case method.
Actions (login required)