Alkhazaleh, Hamzah Ali Khalaf (2010) Menu Planning Prototype System for Malaysian Athletes. Masters thesis, Universiti Utara Malaysia.
PDF




Hamzah_Ali_Khalaf_Alkhazaleh.pdf


Restricted to Registered users only
Download (1MB)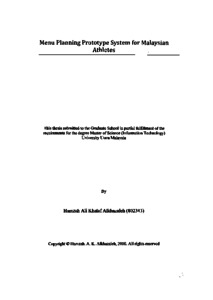 Preview
PDF




1.Hamzah_Ali_Khalaf_Alkhazaleh.pdf


Download (291kB) | Preview
Abstract
Planning menu for athlete is not an easy task as it involves many constraints and requirements. Different types of sports require different amount of nutrients that need to
be fulfill to increase the performance of the athlete during training and competition as well as to avoid any muscle injury. Manual calculation is impossible and time
consuming to get the optimal solution that fulfill all the constraints involve. Therefore, the main objective of this research is to develop a menu planning prototype system for
Malaysian athlete using optimization and heuristic approach to get the best solution based on the current workflow from nutritionist point of view. This research expects to produce a list of menus for athlete that meets all the objectives and constraints involved.
Actions (login required)