Alshammari, Samer Ali Sari (2010) Generating Test Cases for LearningZone. Masters thesis, Universiti Utara Malaysia.
PDF




Samer_Ali_Sari_Alshammari.pdf


Restricted to Registered users only
Download (1MB)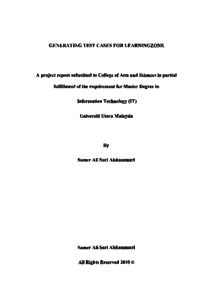 Preview
PDF




1.Samer_Ali_Sari_Alshammari.pdf


Download (147kB) | Preview
Abstract
The increment of web-based applications in all over the internet increase the concern about quality of these web-applications, which requires testing the designs (both black and white boxes) of these systems and generating new methodologies and tools for testing. This research is concern about the applications that are related to Learning Management Systems (LMS) and precisely Modular Objected Oriented Dynamic/Distributed/Development Learning Environment (Moodle), an open source software. Universiti Utara Malaysia (UUM) has named its Moodle as LearningZone which still lacks of testing. Therefore, a suitable testing approach for deriving test cases to evaluate this open source application has been identified. This application represents the case study of this research which focuses mainly on student functionalities of LearningZone. Such an objective can be achieved through identifying the suitable UML diagram for the research's case study. Later on, applying the generation of the test cases from the chosen UML diagram. Finally, the generated test cases have to be evaluated in terms of accuracy and system's errors. This will ensure the suitability of the usage of that diagram for LearningZone as a result of this research.
Actions (login required)