Al-Shaikh, Mu'ath Ziad Najib (2010) Video Retrieval using Content Based Approach. Masters thesis, Universiti Utara Malaysia.
PDF




Mu'ath_Ziad_Najib_Al-Shaikh.pdf


Restricted to Registered users only
Download (1MB)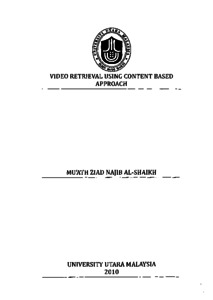 Preview
PDF




1.Mu'ath_Ziad_Najib_Al-Shaikh.pdf


Download (262kB) | Preview
Abstract
Information retrieval systems are living a significant position in our daily life for getting the necessary information. Many text retrieval systems are accessible
and are functioning effectively. Even though internet is complete with media like images, audio and video, retrieval systems for these media are unusual and have not achieved sensation as that of text retrieval systems. Video retrieval
systems are helpful in many applications. There is a high request for useful and capable tool for video association and retrieval based on each user's requirement. Videos are divided into set of frames(images) then they are classified into content based image retrieval. We are developing a content based video retrieval system, which makes use of ontology to make the retrieval process intelligent.
Actions (login required)