Shybub, Abdulrahman Issa KH (2010) Web Based Application for Patients Medical Test System. Masters thesis, Universiti Utara Malaysia.
PDF




Abdulrahman_Issa_KH_Shybub.pdf


Restricted to Registered users only
Download (1MB)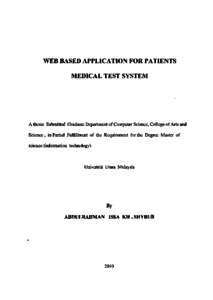 Preview
PDF




1.Abdulrahman_Issa_KH_Shybub.pdf


Download (152kB) | Preview
Abstract
Every semester thousands of new students enroll in University Utara Malaysia. Among them may have diseases or may be in need of medical attention. The number of student is increasing day by day and it is difficult to maintain all of their health information and report by the doctor
by using manually. Web-based or online system is rapidly spinning in the real life as the convenience and cost savings of the web are becoming apparent. To solve this issue, this study will focus on an online medical test registration system that can retrieve staffs and students
medical test information required from University Health Centre (UHC). Based on the proposed system, doctors can manage the test service fasters and eventually will improve the service in the (UHC) in general.
Actions (login required)