Albakoosh, Esmaeil M. A. (2010) Arabic Phonetic Modeling From Speech Recognition Perspective. Masters thesis, Universiti Utara Malaysia.
PDF




Esmaeil_M._A._Albakoosh.pdf


Restricted to Registered users only
Download (661kB) | Request a copy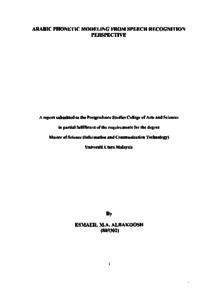 Preview
PDF




1.Esmaeil_M._A._Albakoosh.pdf


Download (145kB) | Preview
Abstract
The Arabic language is a collection of varieties, among which Modern Standard Arabic (MSA) has a special case, because it is the formal language of media, culture, and
education in the Arab world. Other varieties are the informal spoken dialects which are the medium of communication of everyday life. Substantial differences between the two varieties can be found in terms of phonology, morphology, lexical choice, and syntax. The main purpose of this study is to model the Libyan Arabic dialects for speech recognition. Specifically, it attempts to propose a Libyan Arabic dialect-influenced phonetic modeling for use of ASR.
Actions (login required)