Rizalniyani, Abdul Razak (2010) Technology Readiness (TR) towards e-Filing System. Masters thesis, Universiti Utara Malaysia.
PDF




Rizalniyani_Abdul_Razak.pdf


Restricted to Registered users only
Download (397kB)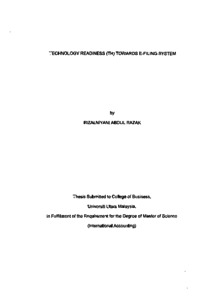 Preview
PDF




1.Rizalniyani_Abdul_Razak.pdf


Download (107kB) | Preview
Abstract
This study examines the level of technology readiness (TR) of Malaysian taxpayers towards e-filing system by IRB (the Inland Revenue Board). 200 self-administered questionnaires were distributed to chosen government/semi-government
agencies located at Jalan Permatang Pauh and Bandar Baru Perda in Pulau Pinang. The survey indicates that Malaysian taxpayers are average in level of TR. They are optimistic towards new technology but less innovative and having some discomfortness when dealing with technology. They are also
concern on the level of security of technology such as internet. Besides, this study also examines TR dimension (optimism, innovativeness, discomfort and insecurity) across gender, age and academic background and the result shows no significant differences. The implication of this study suggests that IRB should from time to time increase security level of e-filing in order to protect the
information. More trained ground staffs are needed to facilitate taxpayers about the on-line process; and the process must be in simple tasks and commands. Awareness program will increase taxpayers' perception on the benefit of having e-filing and hands-on program will educate taxpayers on how to use e-filing. A sufficient system capacity needed to avoid any congestion in submission during
peak period.
Actions (login required)