Yahaya, Wan Chik (2000) Hubungan Perancangan Strategik Kualiti Dengan Prestasi Kerja Dalam Organisasi Pendidikan. Masters thesis, Universiti Utara Malaysia.
PDF




YAHAYA_BIN_WAN_CHIK_-_Hubungan_perancangan_strategik_kualiti_dengan_prestasi_kerja_....pdf


Restricted to Registered users only
Download (8MB)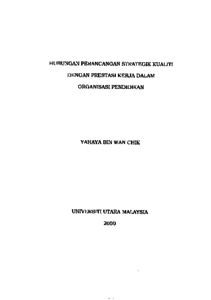 Preview
PDF




1.YAHAYA_BIN_WAN_CHIK_-_Hubungan_perancangan_strategik_kualiti_dengan_prestasi_kerja_....pdf


Download (1MB) | Preview
Abstract
The purpose of this research is to determine the relationship of quality strategic planning and job performance in educational organisations. The research was done due to numerous complaints and dissatisfaction of
general community in respect of education management, teachers' commitment and the students' performance and discipline. Also it seems that generally students are not dynamic and capable to face successfully challeges in the new millenium. The research was done by survey method
using structured questionnaire. Total sample of 175 teachers were randomly selected from 6 secondary schools in Sik, Kedah. For the purpose of testing the validity of the hypotheses, two tests such as Pearson Correlation
Coefficient and Bivariate Regression were used for all the variables Concerned for the study. There are five hypotheses formulated to be tested for this study. The results show that internal environment, external environment, vision, quality objective and value added activities are positively and significantly related to job performance. Thus, the framework developed based on literature review can likely be applied to educational
organisations. The results also support the hypotheses formulated and answered research questions. The found results might differ if the research is conducted in different locations involving larger samples. Finally, this
research could be used as a foundation to do futher research studies in depth regarding quality strategic planning contributing to job performance among teachers.
Actions (login required)