Musaibah, Anwar Salem Omair (2010) Perception on Competitive Priorities and Competitive Advantage among Managers of Real Estate Companies in Dubai. Masters thesis, Universiti Utara Malaysia.
PDF




Anwar_Salem_Omair_Musaibah.pdf


Restricted to Registered users only
Download (804kB)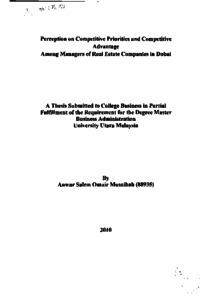 Preview
PDF




1.Anwar_Salem_Omair_Musaibah.pdf


Download (165kB) | Preview
Abstract
As organizations confront changes in their business environment, one of the big challenges confronting them is the ability to develop competitive advantage. The need to develop competitive advantage is not only limited to manufacturing firms but others as well as including firms which are involved in real estate activities .This study is an attempt to examine the perception of managers in real estate firms in Dubai with regards to competitive priorities and competitive advantage in their respective firms. More precisely, the study investigates the relationship between competitive priorities and competitive advantage in Dubai real estate firms. A total 30 managers from six real estate firms in Dubai were selected to participate in the study. The six firms were identified from a list of 66 companies registered with the Dubai Financial Market. In this study, data obtained through structured questionnaire which mailed to the respondents. Statistical analysis namely descriptive analysis and correlation analysis were performed on the data obtained from the respondents. The results of the analysis suggests that competitive priorities namely the focus on cost,
delivery, and quality are related to to the formation of competitive advantage .The results also indicate that the firms tend to have greater focus on cost and delivery in developing their competitive advantage. At the general level the finding of the study indicate that the real estate firms in Dubai tend to focus on building their competitive advantage by focusing on cost and delivery.
Actions (login required)