Al-Ansi, Ali Ali Musaed (2010) The Importance and Utilization of Information Technology among External Auditors in Yemen. Masters thesis, Universiti Utara Malaysia.
PDF




Ali_Ali_Musaed_Al-Ansi.pdf


Restricted to Registered users only
Download (1MB) | Request a copy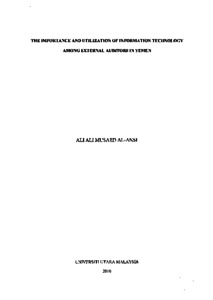 Preview
PDF




1.Ali_Ali_Musaed_Al-Ansi.pdf


Download (208kB) | Preview
Abstract
Utilization of information technology (IT) has a direct impact on the judgment of external auditors and ultimately impact the audit effectiveness and efficiency. This study investigates the level of IT importance, IT utilization, and the fit between them in the context of audit job in Yemen. The proposed model investigate the impact of IT
knowledge, IT training and firm size on the fit between IT importance and IT utilization. The level of IT utilization among auditors is lower than their perception towards the IT importance. Seven technologies are considered as important in the specific context of audit work in Yemen, however only two technologies are rated as utilizable by the auditors. On average, System Development and Installation receives the lowest mean value for both IT utilization and importance. On the other hand, General Office Automation receives the highest mean value. Generally, responding auditors perceived their overall importance of IT as important, while their current
utilization of IT is less than adequate. A questionnaire was used to gather data from 197 auditors representing Big-Four and non Big-Four firms. The results show that IT
knowledge and IT training significantly contributed to the fit of IT utilization and IT importance. Additionally, results imply that information systems audit in Yemen is
still at the minimum level.
| | |
| --- | --- |
| Item Type: | Thesis (Masters) |
| Supervisor : | Ismail, Noor Azizi |
| Item ID: | 2288 |
| Uncontrolled Keywords: | External auditors, auditing, information technology, IT importance, IT utilization, IT knowledge, IT training, information systems auditing, Yemen. |
| Subjects: | H Social Sciences > HF Commerce. > HF1-6182 Commerce |
| Divisions: | College of Business (COB) |
| Date Deposited: | 22 Mar 2011 04:59 |
| Last Modified: | 24 Jul 2013 12:15 |
| Department: | College of Business |
| Name: | Ismail, Noor Azizi |
| URI: | https://etd.uum.edu.my/id/eprint/2288 |
Actions (login required)