Sa'amah, Hassan (2010) Developing Online Help Desk for Politeknik Tuanku Sultanah Bahiyah. Masters thesis, Universiti Utara Malaysia.
PDF




Sa'amah_Hassan.pdf


Restricted to Registered users only
Download (1MB)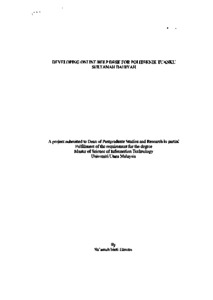 Preview
PDF




1.Sa'amah_Hassan.pdf


Download (180kB) | Preview
Abstract
A help desk is an integral part of many organizations which provides the users with a single focal point where users can channel their problems and ask for help on various ICT or utility equipments. Currently, Politeknik Tuanku Sultanah Bahiyah (PTSB) is adopting the traditional method for help desk maintenance support. The method to raise a defect complaint for ICT and utility equipments is by using telephone, hard copy form or email. Traditional help desk for maintenance support is subjected to communication problems especially between staff or department and this result in unnecessary delay in handling the defect complaint. The objective of this project is to develop an online help desk maintenance support system to improve the efficiency of the process flow. The "Vaishnavi and Kuechler"
general methodology is employed in this study and system prototype is developed using Rapid Application Development (RAD) method. The evaluation of the system requirement and benefit is validated by potential users of the system, in this case are head of department Maintenance Unit, head of Information System Unit, technician from Maintenance Unit, technician from Information System Unit and staff from
Department of Mathematics and Computer Science. Test result was acknowledged by the users and they are satisfied with the prototype online help desk system.
Actions (login required)