Siti Aishah, Rashid (2010) Learning Basic Japanese Language Courseware. Masters thesis, Universiti Utara Malaysia.
PDF




Siti_Aishah_Rashid.pdf


Restricted to Registered users only
Download (1MB) | Request a copy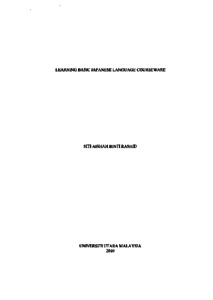 Preview
PDF




1.Siti_Aishah_Rashid.pdf


Download (194kB) | Preview
Abstract
In 21' century, multimedia has become a new medium that provides interactivity on new media. It affect the way to learn, work, and play such as e-learning, multimedia software compact-disk ROMs (CD ROMs), and encyclopedias. Nowadays the use of multimedia software CD ROMs has increased quickly. This technology has been use in many domains such as commercial, promotional, education and training applications. It provides highly effective utilization for people that can get the required information, without matter where the users are located. Today, there are loads of student, children and kindergarten that use multimedia software which are known as Interactive Educational Multimedia (IEM) CD ROMs as a way to learn. The objective of this study is to design the educational multimedia courseware in learning basic Japanese language, develop the prototype of the educational multimedia courseware and to evaluate the effects of the courseware prototype. To develop the suitable design for the users, principles of multimedia learning for design
instruction multimedia by mayer has been used in this study. There are Multimedia Principle, Spatial Contiguity Principle, Temporal Contiguity Principle, Coherence
Principle, Modality Principle, Redundancy Principle, and Individual Differences Principles.
Actions (login required)