Shibani, Abubaker Salem Mohamed Salem (2010) Online English Learning With Game Application for Young Children. Masters thesis, Universiti Utara Malaysia.
PDF




Abubaker_Salem_Mohamed_Salem_Shibani.pdf


Restricted to Registered users only
Download (1MB)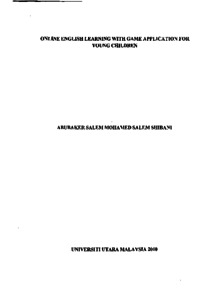 Preview
PDF




1.Abubaker_Salem_Mohamed_Salem_Shibani.pdf


Download (208kB) | Preview
Abstract
The advent of information communication technology (ICT) was to serve as a multimedia channel information capture and retrieval to all human in different age group. The use of computer and all other communication technology become interesting to young children especially when it is focus on to game playing alone. This study aims to build an online learning with fun game application; for young children to improve alphanumeric competency. However children can be persuaded to see learning as fun if the games concept is incorporated into learning. The application was develop with a full adherence to SDL software development methodology. And the prototype was tested good to be implemented as online home use application.
Actions (login required)