Alsaaideh, Mohammad Ali Odeh (2010) Malaysian IT Social Shopping Community Vendors and End User. Masters thesis, Universiti Utara Malaysia.
PDF




Mohammad_Ali_Odeh_Alsaaideh.pdf


Restricted to Registered users only
Download (2MB) | Request a copy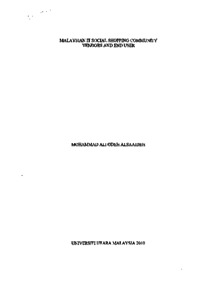 Preview
PDF




1.Mohammad_Ali_Odeh_Alsaaideh.pdf


Download (195kB) | Preview
Abstract
Internet provides an efficient and fast access in order to get information as well as it has a basic role to services and business. Basically, social software services has met
attention over the past years where characterized by its services such as social interaction and tools for cooperation This study seek to Malaysian IT Social Shopping
Community vendors and end user (MITSSC) in order to provide collaboration environment via internet for both of consumers and vendors. Unfortunately, Malaysia is started early to study the possibilities of implementing online-services to help their citizens to perform their needs fast and easier as well as to reduce the overhead of customer services tasks. Furthermore, shopping process requires from users a lot of effort, time for searching for a particular product. Development social network community environment which it can be used as guide for consumer might help them
to find information provider, and ensure availability of various products.
Actions (login required)