Mohain, Ahmaid Rashed (2010) E-Learning Prototype for Secondary School: A Case Study in Iraq. Masters thesis, Universiti Utara Malaysia.
PDF




Ahmaid_Rashed_Mohain.pdf


Restricted to Registered users only
Download (1MB) | Request a copy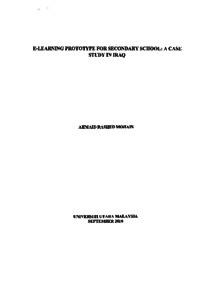 Preview
PDF




1.Ahmaid_Rashed_Mohain.pdf


Download (178kB) | Preview
Abstract
Nowadays, many educational institutions (whether at secondary or tertiary level) have widened the access to their courses through new methods of delivery i.e. via
electronically mediated learning or e-learning. Being a popular tool for teaching and learning, e-learning has been increasingly embedded within a broader framework of education reforms that aimed to develop students' capacities for self-learning, problem solving, information seeking and analysis, and critical thinking. as well as the ability to communicate, collaborate and learn, abilities that figured much less importantly in tertiary education. However, Iraq since the US invasion and the insurgency of 2003, the country has faced a deteriorating educational
system that can be translated by the lack of resources, politicization of the education, uneven emigration and internal displacement of teachers and students, and security threats. Thus, this research aims at designing and building a prototype for Iraqi secondary school in order for students to access educational materials with no restrictions of time and place.
Actions (login required)