Al-Shemarry, Meeras Salman Juwad (2010) Requirement Model for E-Courses Management System in Iraqi Universities: A Case Study at Thi-Qar Universiti. Masters thesis, Universiti Utara Malaysia.
PDF




Meeras_Salman_Juwad_Al-Shemarry.pdf


Restricted to Registered users only
Download (9MB)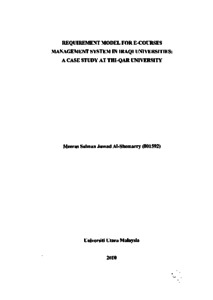 Preview
PDF




1.Meeras_Salman_Juwad_Al-Shemarry.pdf


Download (231kB) | Preview
Abstract
The aim of this study is to construct and utilize a requirement model as basis to develop e-courses management system (eCMS) so as to overcome all courses issues in the university in a proper and effective way. This case study
which focuses on e-courses activity as the domain of study was conducted at Thi-Qar university. So hopefully that this constructed model will help system developers to understand the requirements to build the system that includes concept, flow and procedures in managing e-courses activities. The
observation, interview, and requirement model analysis were used in this study as fact-finding techniques to define the requirements, Unified modeling language (UML) have been used to construct this requirement model that consists of certain model diagrammatical such as use case diagrams, class diagrams, activity diagrams and interaction diagrams (sequence diagrams and collaboration diagrams) and supported by certain textual information like use case specification and requirements list that consisted of 32 functional requirements and 12 non-functional requirements that were needed to construct requirement model for eCMS. However, in this study only functional requirements be captured. This model is validated by using test script technique and sample system (prototype). eCMS is proposed to be a web-based system that enables better communication regardless of time, and location of users. This study provided a better solution to develop eCMS that can be implement at all universities as well as the related education organizations in Iraq.
Actions (login required)