Alhwij, Mummar Ibrahim (2008) The Effects Of Leadership Style To The Motivation Of Managers. Masters thesis, Universiti Utara Malaysia.
PDF




Mummar_Ibrahim_Alhwij.pdf


Restricted to Registered users only
Download (4MB)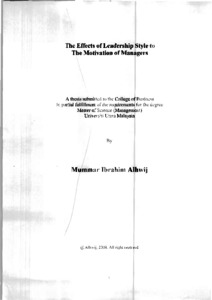 Preview
PDF




Mummar_Ibrahim_Alhwij.pdf


Download (717kB) | Preview
Abstract
The aims of this study are to investigate how transformational and transactional leadership effect to motivation level of the influenced. This study will try to categorized respondents involved into two type of leadership that are Transformational and Transactional respectively. The Transformational and transactional leadership are the common styles in order to determine the style and character of manager to develop the motivation in their work and authority. This study will try to determine the type of leadership and then try to count out the level of motivation within those two particular
styles. To this point, focus has been placed on the factors that influence managers to be either motivated or merely moved, satisfied or dissatisfied. However, the role of the leader played by each manager directly influences in what manner the managers will be motivated and find satisfaction.
Actions (login required)