Ahzam, Othman (2008) A Comparative Study On Service Quality Between Public And Private Higher Institutions. Masters thesis, Universiti Utara Malaysia.
PDF




Ahzam_bin_Othman.pdf


Restricted to Registered users only
Download (6MB)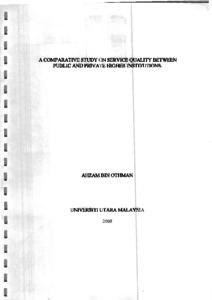 Preview
PDF




Ahzam_bin_Othman.pdf


Download (1MB) | Preview
Abstract
This study is about service quality issue by students and the purpose of the study is to examine the students' view, as a 'user' at higher education, about the attributed of
quality in higher education and services, which the students are experiencing. It has three main objectives. The first objective is to study the perception of students at public and private universities in Malaysia about service quality on their institutions. The second objective is to study the expectation of students about service quality at public and private universities provided by their institution, while the third objective
is examine the comparison on service quality provided by both public and private higher institutions. This study is based on SERVQUAL models. The study is focus on population at students currently available at UUM and MMU. There are 400 respondent selected as a sample in this study based upon a simple random sampling. From the study the main finding had found is both of university do not achieve
service quality standard expected by the students.
Actions (login required)