Abdulnabi, Abdulsalam Mehoub Mehoub (2007) Internet Usage In The Hospitality Industry: A Case of Penang Hotels. Masters thesis, Universiti Utara Malaysia.
PDF




Abdulsalam_Mehoub_Mehoub.pdf


Restricted to Registered users only
Download (3MB) | Request a copy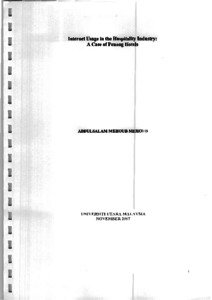 Preview
PDF




Abdulsalam_Mehoub_Mehoub.pdf


Download (638kB) | Preview
Abstract
This thesis explores the development of Internet application in the hospitality industry (e.g., travel industry, and recreational entities) limited to 5 Grant Hotels in Penang. It also illustrates the hotel industry's effort to use the Internet to boost its local market. The
research objective is to investigate the usage level of prevalence of application of the Internet in the hospitality industry with focusing on some emerging issues and challenges. The benefits of the Internet in hotel industries in Penang are also highlighted. The research offers an effective monitoring of self-service technologies trends in the industry, also assist hotels in evaluating the need and resources for staff training. What's more, the impact of this technology on yield management is an issue that can be incorporated in future studies. Managerial implications are discussed with suggestions for future research.
Actions (login required)