Eza Shafinaz, Mohamed Zaharin (2010) A Generic Requirements Model: School-Based Assessment and E-Portfolio Management System. Masters thesis, Universiti Utara Malaysia.
PDF




Eza_Shafinaz_Mohamed_Zaharin.pdf


Restricted to Registered users only
Download (1MB) | Request a copy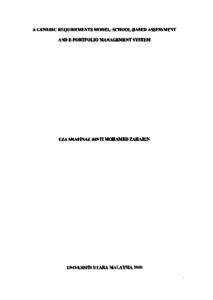 Preview
PDF




1.Eza_Shafinaz_Mohamed_Zaharin.pdf


Download (174kB) | Preview
Abstract
Requirements model is one of the important elements in software development process. This research focuses on constructing a requirement model for a new system namely School-Based Assessment and e-Portfolio Management System (SMS). The case study is based on vocational subjects within Perlis secondary schools. The requirements model proposed in this research consists of four main elements in the software requirements model approaches which are scenario-based models, class-based models, behavioural models and flow models. Unified Modelling Language (UML) is used as a modelling technique to illustrate the requirements. The requirements model is validated by using an expert review approach and user interface prototyping. The result from both validation techniques gives a high
motivation to researchers in particular domain to expand research in developing SMS. This research contributes a guideline to other researchers to further the actual
development of SMS in the future. In fact, findings in this study could help the Ministry of Education (MOE) to recognize the current problems of SBA, the key factors influence the development of SMS, the possible issues form system usage and the potential stakeholder for SMS. Thus, it is hope that the actual development of SMS could be successfully complete within allocated time and budget.
Actions (login required)