Muhammad Subhan, , (2010) Strategi Pertumbuhan Sistem Pelabuhan: Satu Kajian Terhadap Pelabuhan-Pelabuhan Aceh di Indonesia. PhD. thesis, Universiti Utara Malaysia.
PDF




Muhammad_Subhan.pdf


Restricted to Registered users only
Download (8MB) | Request a copy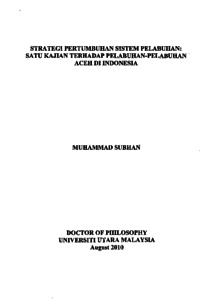 Preview
PDF




1.Muhammad_Subhan.pdf


Download (760kB) | Preview
Abstract
The main objective of this study is to investigate the characteristics of Aceh's ports and their contributions to the regional port industries, and to develop strategic
approaches to better position those ports in the dynamic and competitive environment along the Malacca Strait. This study is motivated by the facts that ports in Aceh have had difficulties to compete with other regional ports, despite their strategic position along the world busiest shipping lane of the Malacca Strait. Using a mixed method that is a combination of quantitative and qualitative approach, this study examines perspectives from relevant parties such as government officials, port authorities and managements, experts, academicians and consultants, and port user associations. Data and information are analysed using SWOT concentrating on the conditions of the ports, perceived factors contributing to port growth, port strategic location, and implementation of the concepts and strategies for port growth. In particular, this study focuses on business aspects of the ports while to a lesser extent also highlights political motivations of the ports stakeholders. The findings show that it is critical to totally reform the ports' strategic development and operation in order to achieve sustainable competitive advantage and growth. In addition, Aceh ports should be developed as an integrated port system, taking into consideration the concept of ports as both an element of logistic chain system and as a member in a port group that serves same hinterlands. This study suggests the use of Sabang and Lhokseumawe as the transshipment and hub ports for Aceh, while all other Aceh ports should be developed based on consistent strategic plannings as the supporting ports for the main terminal ports in Sabang and Lhokseumawe. Through these strategic approaches, Aceh ports will be able to accelerate the achievement of its ultimate goal of having the same level playing field with other main ports in the region.
Actions (login required)