Ratnawilis, Md Ambia (2010) Understanding Employees Compliance With Safety Behavior in a Telecommunication Industry. Masters thesis, Universiti Utara Malaysia.
PDF




Ratnawilis_Md_Ambia.pdf


Restricted to Registered users only
Download (691kB)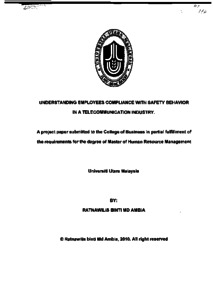 Preview
PDF




1.Ratnawilis_Md_Ambia.pdf


Download (137kB) | Preview
Abstract
Much ettention has been focused on worker perceptions of workplace safety. However; relatively limited studies focus on service sector in Malaysia although this sector contributes to quite high accident rates reported by the Social Security Organization (SOCSO) of Malaysia. This study is a replication study of Hayes et al. (1998) which adapting the 50-item instruments called Work Safety Scale
(WSS) namely on job safety, coworker safety, supervisor safety, management safety practices and satisfaction with the safety program that assesses employees' perceptions on work safety behavior. The purpose of this study is to
examine whether all factors related to the employees' perceptions towards safety influence compliance with safety behavior among 135 property operation workers in one telecommunication industry in Malaysia. Based on the analysis it was found that satisfaction with safety programs, management safety practices and coworker safety each made significant contributions to compliance with safety behavior. Hierarchically, these three factors are found to be among the strongest predictor variables to compliance with safety behavior in this industry. Recommendations and implications for future research and practice were also discussed.
Actions (login required)