Azir, Salleh (2010) Safety Behavior in the Malaysian Petrochemical Industry. PhD. thesis, Universiti Utara Malaysia.
PDF




Azir_Salleh.pdf


Restricted to Registered users only
Download (1MB)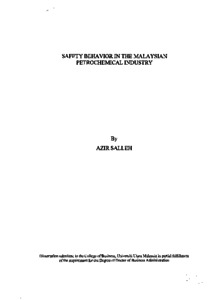 Preview
PDF




1.Azir_Salleh.pdf


Download (301kB) | Preview
Abstract
Occupational safety at the workplace has a positive relationship with productivity, reputation and profit. While many factors contributed to workplace accidents, safety behaviors have received little attention in occupational safety studies even though unsafe behaviors were blamed for almost all reported accident cases in the industries. This is probably because of the complexity to understand the variability and the dynamic nature of human behavior and with different personality characteristics,
identifying which personality characteristic influencing safety behavior has been a challenging task. Similarly, guiding employees to work safely is a major challenge for
the industries. Through literature reviews, the behavior safety conceptual framework, supported by the Theory of Planned Behavior, was developed. The measurement tools were adopted from the published work of previous researchers except for safety commitment measurement tool which was tested for the first time in this study after it was developed in 2008. The target respondents were the employees working in Malaysian petrochemical industry and quantitative method using availability sampling method was applied. The data gathered from the survey were analyzed using Statistical Package for Social Science (SPSS) version 11.0.1 for descriptive and inferential statistics analysis. The responses to the survey were rated according to the Likert scale type with "1" indicated strongly disagree and "5" indicated strongly agree. The factor analysis indicated the number of factors extracted from this study was the same as extracted from previous studies, however not all factors have the same statements as previously found. This study showed safety motivation, employees' conscientiousness, and employees' competency were positively and significantly related to safety behavior. In addition, safety commitment was partially mediated the relationship between safety motivation, employees' conscientiousness and employees' competency with safety behavior in petrochemical industry in Malaysia. Therefore, it requires a strong commitment from the employees as well as a strong support from the employers to help employees gain their confidence, motivation and at the same time to be
competent in their jobs in order to improve safety behavior at the workplace. With this finding, it was recommended that the focus of safety improvement programs in this industry should be on developing human capabilities, enhancing their personality characteristics, motivating employees on the importance of safety and enhancing their
commitment to safety at the workplace.
Actions (login required)