Cheng, Jack Kie (2010) A System Dynamics Simulation Approach to Container Terminal Management. PhD. thesis, Universiti Utara Malaysia.
PDF




Cheng_Jack_Kie.pdf


Restricted to Registered users only
Download (3MB)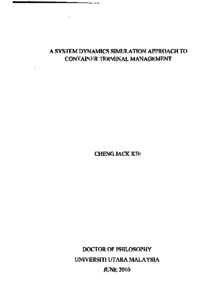 Preview
PDF




1.Cheng_Jack_Kie.pdf


Download (260kB) | Preview
Abstract
The container terminal operates under a competitive and dynamic environment where every container terminal continuously seeks to secure a competitive advantage. One of the competitive advantages is the ability to turnaround vessels within the shortest time period. However, this ability very much depends on the overall efficiency of the container terminal operations itself. The planning, decision
making and operation of the berth and container yard are crucial in order to ensure the whole container terminal operates in an efficient and timely manner. However, due to the complexity of the container terminal operation, decision making and planning in the berth and yard subsystems are very challenging. This research presents the application of system dynamics simulation into capturing the
relationship and interdependency between the berth and yard operation. The system dynamics model reveals that both quay crane moves and prime mover traveling distances have an impact on the berth occupancy rate. Besides that, the system
dynamics model also provides capacity planning by allowing the experimentation of the impact on the increase in container throughput, vessel arrival and vessel size on
the container terminal operation. This research contributes at bridging the gap between the literatures by developing a model that is capable of capturing the relationship and interdependency between the berth and yard operation as well as incorporating both operational and strategic level issues at the container terminal. This research also benefits the container terminal management through the
development of Microworlds. Microworlds is capable of aiding terminal managers on planning and decision making as well as serving as a learning tool where the managers can gain insight to the complexity of the terminal operations.
Actions (login required)