Azliza, Azmi (2010) Intention to Leave Among Officers in Royal Malaysian Navy. Masters thesis, Universiti Utara Malaysia.
PDF




Azliza_Azmi.pdf


Restricted to Registered users only
Download (836kB) | Request a copy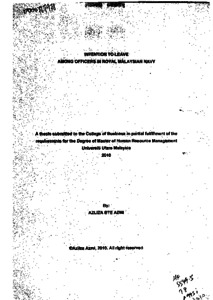 Preview
PDF




1.Azliza_Azmi.pdf


Download (253kB) | Preview
Abstract
There are speculations about Royal Malaysian Navy (RMN) personnel especially Short Course officers (SCO) who are confused whether to continue or to leave their service once they have completed their initial contract. But most of the speculation Human Resource Department heard is they do not interested to continue their service and therefore would like to leave the service. They were said to leave the
service even though government has announced and now implemented the salary increment for government sector and additional 20% salary increase for police and military. This speculation leaves a horridness for the Human Resource Department because shortage of personnel especially officers would directly affect combat efficiency and effectiveness of military organizations. This study is to examine the intention to leave among short course officers and to identify the factors that influence their decisions towards leaving the service, ventured to establish whether
intention to leave is related to job satisfaction, organizational commitment, and demographic factors of the short course officers. The primary focus of this study was
to provide empirical basis which could help in the formulation of management intervention schemes to encourage SCO to remain productively engaged in the service until their retirement period. Data was gathered through 358 (79.6%) questionnaires which was successfully collected from SCOs served at various RMN naval base and RMN onboard ship in peninsular Malaysia. The data was analyzed using the Statistical Package for Social Sciences (SPSS) version 14.0. Findings showed that job satisfaction and organization commitment were found to have a significant negative relationship with SCOs intention to leave. Organizational commitment were found to be a stronger predictor of intention to leave. Among all measurement in job satisfaction, 'perceived an adequate income' has been found the strongest factor to influence SCOs intention to leave the service. However, five demographic factors of the SCOs from the total ten (10) factors were found to have
no significant associations with SCOs intention to leave. This study also found that majority of the SCOs which is from Executive (52.8%) are more intended to leave the
service among any other traits (branch).
Actions (login required)