Ahmad Sabri, Yusuff (2011) An Exploratory Study on Relationships Between Party Identification, Personal Values, Demographics Characteristics Affect on Voting Behaviour. Masters thesis, Universiti Utara Malaysia.
PDF




Ahmad_Sabri_Yusuff.pdf


Restricted to Registered users only
Download (1MB)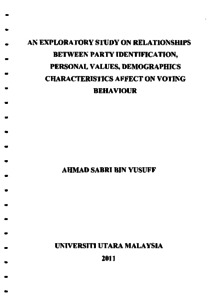 Preview
PDF




1.Ahmad_Sabri_Yusuff.pdf


Download (165kB) | Preview
Abstract
The purpose of this study was to investigate if there was a significant differences in voters' voting behaviour and to what extent do party identification, gender, race, age, income, education and personal values affect them. The study was conducted at Dewan Undangan Negeri (DUN) Seri
Setia, Kelana Jaya, Selangor where samples were distributed to 430 registered voters by drop-off and 380 were useable. The samples were representative of the results in 2008 Malaysian general election for DUN Seri Setia, focusing on voters gender, race, income, party identification and
voters voting behaviour using statistical techniques such as ANOVAs, Chi-squares, factor analysis, and regression. By focusing on personal values and demographic characteristics
association a new segment tools has been created to confirm the interrelationships among demographic characteristic, party identification and voting behaviour. This study demonstrates how personal values may be associated with demographic characteristics such as gender, race, age, income and education, to create a new market segmentation tools for examining similarities and differences in party identification and voting behaviour.
Actions (login required)