Siti Hasanah, Sanusi (2011) The Use and Abuse of Facebook by Generation Y. Masters thesis, Universiti Utara Malaysia.
PDF




Siti_Hasanah_Sanusi.pdf


Restricted to Registered users only
Download (1MB) | Request a copy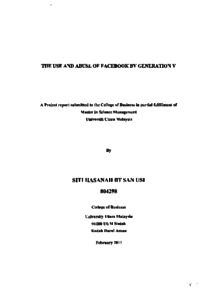 Preview
PDF




1.Siti_Hasanah_Sanusi.pdf


Download (199kB) | Preview
Abstract
The purpose of this research is to determine the factors that influence Generation Y on the use and abuse of Facebook. Facebook is one of the social network sites (SNSs) that increasingly attracted millions of user in the CyWorld, many have used these sites into their daily practices to establish or maintain their social networks connections with others. In this study, there are four objectives are constructed to evaluate the importance of Facebook in Malaysian context. First objective revealed that Facebook become an important medium for generation Y to stay in touch with old friends and those at other
schools regardless where there are. The finding of this study has identified that relationship maintenance and virtual community were significantly related to social life and Facebook. However, college/universities activities variable were insignificant. In conclusion, the results of the findings are revealed that Facebook is one of the social network sites (SNSs) play an important roles for many users in Malaysian context. In addition, data gathered from the questionnaires is analyzed by using Statistical Package for Social Science Software (SPSS). The paper finally presents the outcome of the study, together with the limitations and avenues for further research of this emerging topic.
Actions (login required)