Azmi, Ali (2010) The Relationship Between Organizational Citizenship Behavior and High Performance Organization: Case Study at Padiberas Nasional Berhad. Masters thesis, Universiti Utara Malaysia.
PDF




Azmi_Ali.pdf


Restricted to Registered users only
Download (627kB) | Request a copy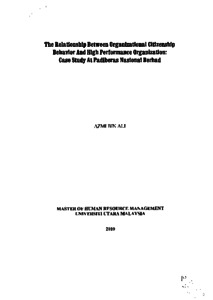 Preview
PDF




1.Azmi_Ali.pdf


Download (137kB) | Preview
Abstract
Competition in the world business has becoming more tense and demanding. Consumers have become more aggressive and demand for a more innovative and quality product. In the Malaysian context, government has urged corporations to
enhance their operation by emphasizing on human capital development. Therefore, the purpose of this study was to identify the difference between office location and
organizational citizenship behavior (OCB) dimension. In addition, this study also examine the relationship and the influence of the OCB dimensions toward high performance organization (HPO). To attain the objective, a quantitative method was employed and data were collected through questionnaire. This measurement of this study is adaption from Sekaran (2000) as she suggested the determination of sampling design and sampling size helps the researcher to draw conclusions that would be generalized to the population of interest. A total of 300 questionnaires were distributed to the all level of employees from Northern and Central Region of Padiberas Nasional Berhad (BERNAS), however only 123 (41.0%) were received and used for analysis. Analysis ANOVA test, Pearson correlation dan regression analysis were been used in this study. The finding shows there is a significant difference between all five dimensions of OCB with office location. The correlation was at moderate level between dimensions of OCB with HPO. The most important OCB dimension is value, which is the highest beta score (B = .371; p < .005). This study suggests that there are relationship between OCB and HPO in Bernas. It also suggest that management would need to highly considered of encouraging high participation from employees, promote trust dan enhance development and training program to achieve status as high performing organization.
Actions (login required)