Masliana @ Monalisa, Masrom (2010) Factors That Influence Employee Stress: A Study in a Banking Industry, Malaysia. Masters thesis, Universiti Utara Malaysia.
PDF




Masliana_@_Monalisa_Masrom.pdf


Restricted to Registered users only
Download (619kB) | Request a copy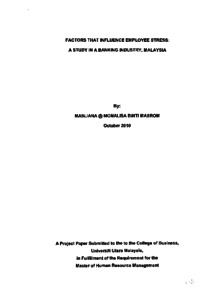 Preview
PDF




1.Masliana_@_Monalisa_Masrom.pdf


Download (156kB) | Preview
Abstract
Employee stress is one of the important issues that need to be addressed by every organization and researchers through their studies in order to understand their impact on employees and organization. Presently, employee stress is a challenge that many organizations struggle to overcome. The
purpose of this study is to examine and gain a better understanding of the factors that influence employee stress in banking industry. This study attempts to uncover how financial problem, family demand and job demand influence employee stress. Data were collected through distribution of self-administered questionnaire to the employees selected by random sampling which involves a process of random selection of subjects from each bank located at Kawasan Institusi, Bandar Baru Bangi / Sungai Merab, Selangor. A total of 121 usable responses were used for the purpose of this study. Data were analyzed by using Statistical Package for Social Science (SPSS) version 12. Based on the analysis, it was found that there is a relationship between the three independent variables namely financial problem (r=.525), family demand (r=.380) and job demand (r=.542) and employee stress. Among the three independent variables, job demand is found to be the
strongest influence of employee stress.
Actions (login required)