Ilona, Desi (2008) Board Quality and Firm Performance: The Case of Indonesia's Listed Companies. Masters thesis, Universiti Utara Malaysia.
PDF




Desi_Ilona.pdf


Restricted to Registered users only
Download (4MB) | Request a copy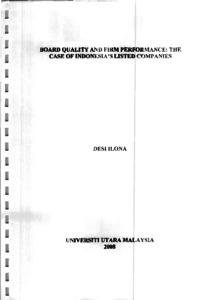 Preview
PDF




Desi_Ilona.pdf


Download (849kB) | Preview
Abstract
This study aims to investigate the effect of board quality on firm performance of Indonesia's listed companies post revision of code of corporate governance. In addition, the study is built based on the premise (agency theory) that board quality is associated with the firm performance.
The study used 133 Indonesia listed companies for the year of 2007 financial statement. In addition, board quality is measured by five independent variables; board
quality, board shareholding, outside board, Audit Committee Independence, and Audit Committee Financial Expertise. Hence, firm performance is measured by return on asset.
The study also used three control variables; company size, fixed asset to total asset ratio, and leverage.
By using the multiple regression analysis, the result show that out of five independent variables are hypothesized, only board independence is significantly negative associated with the firm performance. Hence, leverage and company size (control variables) are also associated with firm performance. In addition, leverage is negatively associated with firm performance and thus, company size is positively related to the firm performance.
Actions (login required)